Clearpak is a Canadian manufacturer of transparent folding boxes, building world-class brands through intelligent, unique, clear packaging designs, with unrivaled attention to detail and exceptional customer care.

ABOUT CLEARPAK INC. 
With over 25 years in designing and manufacturing clear packaging folding cartons, boxes, tubes and point of purchase displays, Clearpak is trusted throughout North America by name brands such as Bic, Unilever, Motts, Canada Dry and Clinique to name a few.  We have garnered in-depth knowledge of the clear plastic packaging industry and the intersection between your innovative product and consumer eye-tracking fixation on your product, resulting in increased sales.
Clear packaging sells.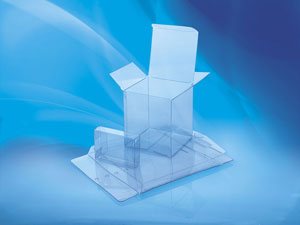 We know how to make your design and marketing team's ideas jump off the shelf, into consumers' hands in a retail or on-line environment. Visual merchandising at its best. 
Clearpak is currently the only Canadian-based plastic folding carton manufacturer with ISO 9001:2008 certification. This certification provides by-the-book guidelines for quality control, distribution, procedures and customer care. Clearpak has partnered with some of the most recognizable top-level brands throughout Canada, the United States and all of North America.
Our crystal clear packaging and displays are trusted by our clients to stand out on the shelf, be of quality plastic materials and competitively priced.
Our customers choose Clearpak for:
High Quality Transparent Packaging
Creative Packaging Designs
Engineering and Design Expertise
Competitive Prices
Visit our
Packaging Market pages
for unique ideas suited to your industry and for a better look at the
types of products we offer
visit our
styles page
 or
gallery
.
The Difference is Clear.
OUR DESIGN TEAM
Our experienced design and production team delivers retail packaging solutions and ideas, using high quality materials and equipment to create a superior finished clear packaging product on time and on budget. We coordinate your project and work with your design and marketing team from initial concept, to the finished product.  We are committed to upgrading our equipment and facilities to meet the demands of an ever-changing packaging industry.

The project management team at Clearpak is always willing to produce samples for your consideration and approval. We use state-of-the-art CAD systems to layout your design and maximize plastic material usage. We then produce your samples in the chosen materials and thickness that best suits your packaging design needs.